Our team of brand strategists create compelling truck advertising campaigns that:
Drive Traffic To Websites
Establish Businesses As Leaders In Their Industry
Since 2013, Big Rig Wraps has created numerous successful transport truck advertising campaigns for businesses of all types and sizes. Click to see testimonials.
We partner with more than 50 freight companies, connecting our clients with the perfect route to reach their target markets anywhere in Canada and the United States.
We analyze your current marketing portfolio and develop a strategy with you to incorporate your truck ad into a consistent campaign.
Your design team works with ours to create a giant truck ad consistent with your branding and campaign needs.
With some of our trucks, we can supply GPS data, so that you can track potential views.
We partner with fleet operators and negotiate terms (each contract has unique terms).
We oversee the printing of high-quality, weather resistant, vinyl and its installation.
We locate the ideal route, or routes, to reach your targeted markets.
You join our preferred client roster, and we promote your product or services through our own heavy traffic social media channels.
You have our easily accessed brand strategists to consult with for continued media planning after the launch of your truck, for as long as you are a Big Rig Wraps client.
Mission Statement:
Big Rig Wraps provides lead-generating, "green" advertising options to seamlessly fuel marketing campaigns, offering choices to reach every age group and target market across North America.
Become One Of The Brands We Proudly Serve
Big Rig Wraps was founded by an award-winning brand strategist and entrepreneur with more than 20 years of sales and marketing experience.
With a passion for marketing and increasing sales, the Big Rig Wraps team was tasked to innovate and find ways for large and small businesses to maximize their advertising dollars. Recognizing that Out-Of-Home (OOH) advertising was a new growth area, they focused their efforts on bringing together businesses with products and services to sell, with independently owned fleets of trucks.
With advertising on trucks traveling streets, roads, and highways across North America, the Big Rig Wraps team offers an extremely effective way to reach new and existing markets.
MEET OUR EXECUTIVE TEAM
The Big Rig Wraps management team is made up of savvy industry experts, bringing years of experience to our company. They work tirelessly to help our company scale, grow, and succeed.
Angela Baltkois – Founder and CEO
Angela Baltkois founded Big Rig Wraps Transport Truck Advertising in 2013, after identifying an untouched out-of-home marketing medium: transport truck advertising on independently owned fleets. Recognizing that only large companies with their own fleets were maximizing the benefits of non-competing ads on large vehicles, Angela created a business model where all-sized businesses can buy large-scale ads on trucks ranging from 20 feet to 53 feet. Currently, Big Rig Wraps partners with more than 50 reputable and well-known fleet owners who make their big rigs and their routes available to advertisers who want to generate more sales. Big Rig Wraps has quickly expanded across Canada and throughout North America, galvanized by businesses, marketing managers and media buyers who recognize transport truck advertising as the perfect tool to increase brand awareness and push traffic to online spaces like web sites and social media channels.
Prior to starting Big Rig Wraps, Angela amassed more than 20 years of sales and marketing experience as a Brand Strategist, a profession she still enjoys honing daily. She is the former owner of an award-winning internet marketing company (CBS Group), which she founded in 1999 when it was a struggle to convince companies to embrace the internet and develop a web site. Through many years of hard work and tenacity, Angela pushed her web company to be one of the top web companies in the Greater Toronto area.
Anthony Thomas – Chief Financial Officer and Managing Partner
As Chief Financial Officer and managing partner of Big Rig Wraps, Anthony oversees operational and financial strategy, assessment of organic expansion opportunities, governance and risk management, and analysis. He has been instrumental in the company's growth initiatives, in both Canada and the United States.
Anthony is a Chartered Professional Accountant with over 25 years of experience in the public and private sector. He has extensive experience with building and leading finance teams in global companies with significant operating scale and complexity.
Jenn Humphries – Director of Communications
As Director of Communications, Jenn Humphries is responsible for managing and directing Big Rig Wraps internal and external communications. She creates marketing and communication strategies and is the key spokesperson Big Rig Wraps.
Jenn Humphries is an award-winning public relations professional and content creator. Her company, JC Humphries & Associates, specializes in amplifying business owners and their companies to grow bigger audiences and improve sales. During her more than 20-year career in Public Relations, Jenn helped change the media landscape by overseeing communications campaigns around CRTC applications and submissions, and preparing reports to regulators and for senate hearings. She announced landmark mergers and acquisitions (BCE's first acquisition of CTV Inc.; CTV's acquisition of NetStar Communications); announced leadership changes, promoted new technologies (out-of-home media, films for mobile, e-cinema); and launched award-winning films at international festivals including the Toronto International Film Festival and Sundance. She has even spearheaded the Canadian publicity campaign for two successful initiatives to garner Oscar attention (Oscar-Award-winning Danish Poet, Oscar-nominated Madame Tutli-Putli). While working in healthcare, Jenn secured a prestigious public sector award nomination, garnered acclaim for the Hospital's LHIN Health Equity report, and increased the national and international media profile for Canadian medical research.
Before becoming the Principal of her own firm, Jenn held numerous in-house public relations positions including Director of Corporate Communications at CTV Inc. and Bell Globemedia; Senior Publicist at the National Film Board of Canada; and Senior Media Specialist and External Communications at St. Michael's Hospital.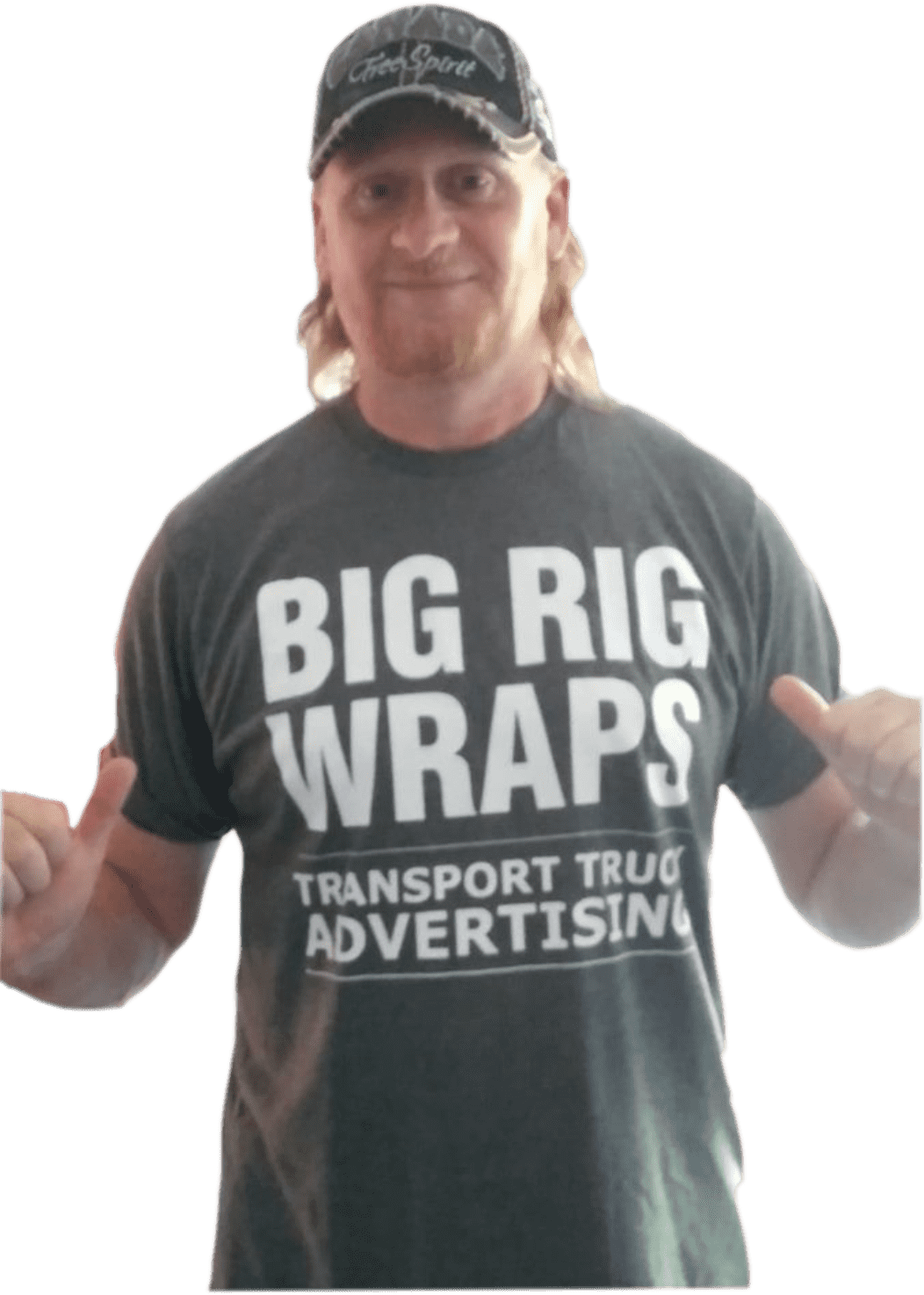 Tim Brunton – Creative Design Director
As lead designer for Big Rig Wraps team, Tim designs eye-catching trucks that turn heads and generate excellent brand awareness for Big Rig Wraps' clients.
Tim has over 22 years of experience in graphic design, from print media to digital graphics and BIG RIG WRAPS! He has worked with an impressive number of clients over the past 22 years from start-ups to major corporations like Bell Media.
Tim is a guitarist/musician and can be found practicing martial arts when he is not designing.
Barb Wiseberg – National Director of Sales
Barb has been passionately involved in marketing and media for over 25 years. Her diversified background includes positions with several ad agencies, television broadcasters, and print and online publishers.
Barb's approach is collaborative, as she personally works with each client, understanding their goals and objectives.
Outside of work, Barb enjoys contributing to the community in a variety of ways. She is co-Founder of The Krinkle Project, a community-based program that has delivered over 4000 lootbags/backpacks to children who are temporarily living in a Women's Shelter.
Barb and her husband Darrel live in Toronto – their son Joey is studying Data Science at U of T.
Carolina Ayllon – Director of Business Development
As Director of Business Development, Carolina is responsible for generating brand awareness, new contacts and sales leads for Big Rig Wraps. Carolina participates in the strategy, planning, and development of social media campaigns reporting directly to the company's CEO and senior stakeholders. She has been an integral part of the company's growth and increased market share in Canada and the United States.
Carolina has over 10 years of experience with business and brand development. She has helped past employers grow from six-figure to billions of dollars in sales.
Bhavesh Rawal, Head of IT
Bhavesh leads our digital strategy team with over 15 years of experience with information technology and application development. He is well-versed in development of current technological trends and familiar with a variety of business concepts including but not limited to iOS, Android, Web (LAMP, MEAN), Artificial Intelligence, Machine Learning, Augmented / Virtual Reality, Blockchain Implementations, Robotic/Business Process Automation, and Edge Computing/DevOps.
Bhavesh provides technical leadership for Big Rig Wraps employees, stakeholders and clients to ensure technologies are implemented used appropriately. He is also responsible for conducting technological analyses and research, developing strategies for technological resources and evaluating and implementing new systems and infrastructures. Bhavesh also supervises system infrastructure to ensure functionality and efficiency, monitors KPIs and IT budgets to assess technological performance, uses stakeholders' feedback to inform necessary improvements and adjustments to technology, communicates technology strategy to partners and investors.
Paula Kennedy – Chief Photographer and Videographer
Paula Kennedy has worked with Big Rig Wraps since 2015. She has had an important role in helping us establish our initial branding and marketing strategies. Many of the first trucks we wrapped were designed by Paula.
Paula is a creative genius with a unique eye for graphic design, video, and photography. All of the Big Rig Wraps video and photo shoots have been done by Paula.
Paula launched her own company, Purple Door Creative in 2016, offering creative visual marketing solutions for businesses and realtors in Durham Region and surrounding areas. From quality photography and videography to graphic design and more, her goal is to make her clients and their products or services outshine their competition and she does it with a personable touch and attention to every detail. We are fortunate to have Paula on our team
Michelle Reith – Client Services Manager
Michelle started with Big Rig Wraps in 2015 bringing over 20 years of customer service and process improvement skills. She heads our Client Services team and is specifically passionate about delivering the best possible campaign outcomes and return on investment to our clients.
Michelle's previous roles prior to joining Big Rig Wraps positioned her well to foster a service-oriented work environment with an emphasis on quality, accountability, innovation, and teamwork.
Kelsey Skinner – Social Media Strategist
Kelsey Skinner has been part of our executive team since 2010. She joined us when we owned our internet marketing company (CBS Group) and has been a part of Big Rig Wraps since it's inception.
Kelsey has worked with many companies under her personal brand "Mabel Media." She specializes in social media marketing and has received personal training with famous internet marketing gurus; John Eric and Eric Worre.
Kelsey helps us plan, strategize and implement our social media presences on Facebook, Instagram, LinkedIn, Twitter, YouTube and Pinterest.
Oakville, Ontario Office:
2275 Upper Middle Rd. E. Oakville, ON L6H 0C3
Durham Region Address:
Box 20055, Newcastle, ON L1B 1M3
Buffalo, New York Address:
50 Fountain Plaza Buffalo, NY 14202